Hi AirlineSimers,
I'm thinking of an accounting issue for a filler flight. By 'filler', I mean a non-essential, non-hub flight set up primarily to maximize the usage of an aircraft (and of course earn some revenue).
With my previous flight plan, I have my outbound hub flight LAS - PHL, stay at PHL for around 3 hrs, and make it back to LAS for my hub connection. The aircraft usage would be 200+%. Therefore, I decide to set up a PHL-BDL short-haul flight to fill the 3-hr turnaround at PHL. My flight plan becomes LAS-PHL-BDL-PHL-LAS, that brings down my aircraft utilization to a very healthy 110%.
The load factor for PHL-BDL flight is of course sub-optimal, since PHL is not my hub, I can only depend on the O/D traffic between PHL-BDL (and a small LAS-BDL connection). The flight shows up as an accounting loss on the flight information page. However, I think the flight information page cannot reflect the whole picture of my PHL-BDL flight, since the other option is to let the plane stay idle while I still have to pay the same leasing amount at the end of the week. My rationale is that I can manually re-calculate the 'fixed cost' section to see if my filler flight is actually making money. Here is my recalculation below.
1968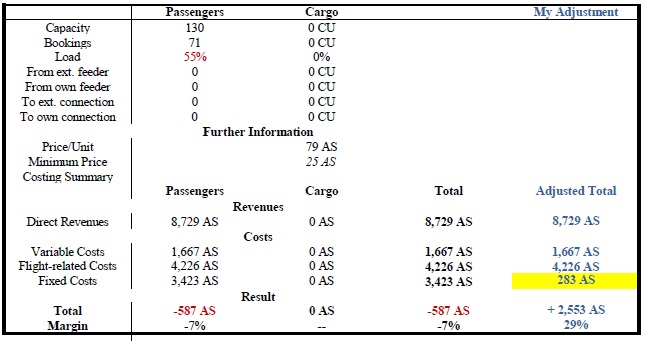 1969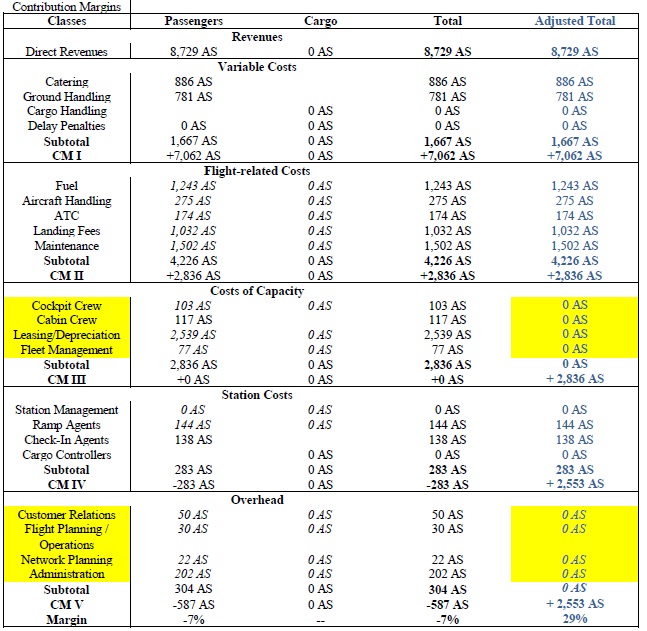 I'm assuming I'll otherwise pay the exact same amount for these fixed costs (such as leasing/depreciation, salaries etc.), so I set them to zero for this flight. I think this method might overestimate profit for a bit, but generally serve the purpose. I'm wondering this is a way to approximate profits for filler flights, or if there are other critiques about it. 
Updated v1.1
What about taking this a step further? I plan to operate LAS-NRT-HKG, in which I have no traffic rights between NRT and HKG. I cannot fill my plane full LAS-NRT, so adding HKG as a second destination flight makes the LAS-NRT leg more 'full', since there are additional passengers going to HKG also on-board. Even the CMII number could still remain negative, it could in some circumstances be a net gain for me.
Assume 25 economy passengers transfer on NRT-HKG, should my adjusted CMII number be:
CMII[NRT-HKG] + 25*Price[LAS-NRT] - 25*Var-Flight-Cost[LAS-NRT]
Thanks a lot!