As soon as available, be welcome on the new A350s of awaya international. :)
Countdown to delivery:

awaya international unvails the first A350 routes from London-Heathrow.
1587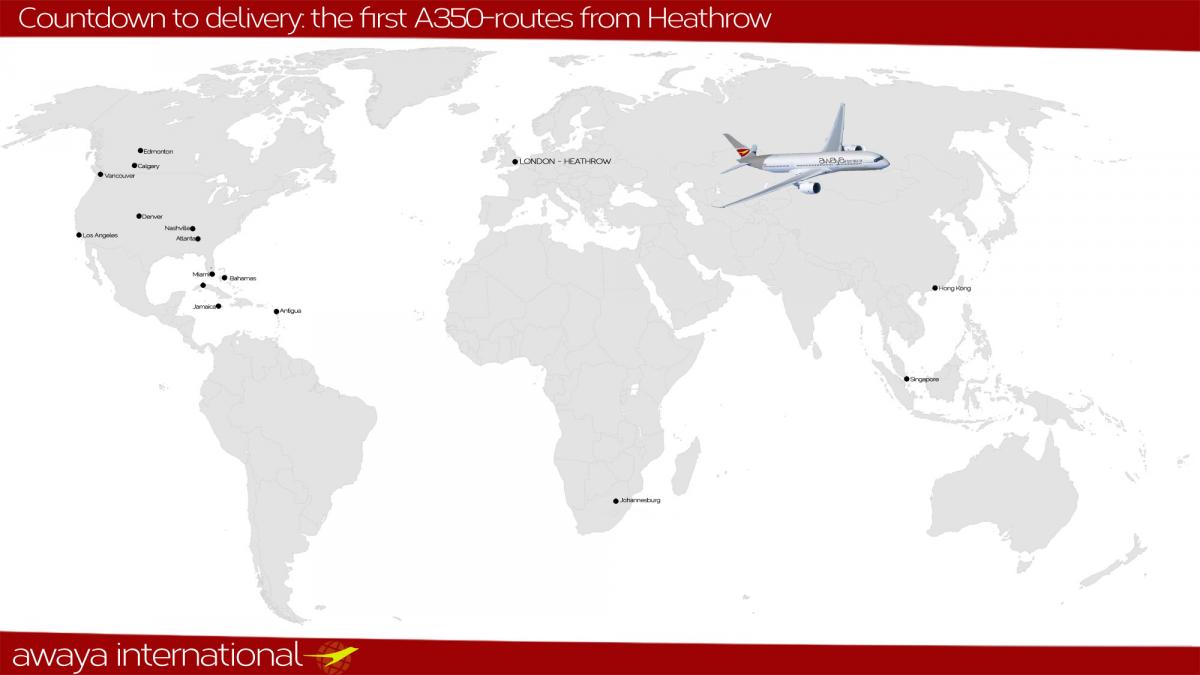 Awaya has ordered 50 A350 for its long-haul routes an have options for 30 additional planes.  "In phase one, 30 A350 will remove older A330/340  on the Heathrow-Routes", CEO Mr. Skywalker said on the latest press conference. "At the second phase, 20 more A350 will be based at awaya´s mainhub in Birmingham". Phase three with the optional planes is reserverd for new destinations. "In coordination with our quality-connect members, there maybe some new routes to South America or East Asia. We´re believe, to get an outstanding and economically plane.", Skywalker said.
Besides this, the inaugrual flight will take-off at Birmingham. "Maybe Denver or Las Vegas will be the first destination", Skywalker reveals.
The new fleet policy provides to replace all 19 A340-300, the 14 Dreamliners and some parts of the A330-300/-200 fleet. "We´re going to simplify our fleet to only two long-haul widebodies: the Airbus A330-200 and the A350-900.", Skywalker is cited. "Boeing´s 787-8 have done a great job for our airline, but we decided to return to an pure airbus fleet for synergie effects", he said.
We offered Airbus a little bit more money so my airliner will be the launch customer of the A350!  ;)
Good luck! :D
But it´s no problem. Awaya gets a big* discount instead :ph34r:
* Ok. 5 % isn´t sooo big ;)
I'm starting slow with just one. Don't want the same debacle as with the 787-9. If satisfactory will add more to add/replace other long haul planes.
A pity, although totally understandable, that you are going to phase-out the A340. Nice, characteristic plane.
Yes, the A340s (without the -600) are very beautifull planes. They have this touch of former days of aviation, when all longhaul planes have had four engines. Today, it´s not necessary anymore, but they are still an eyecatcher. And they are characterstic in Airlinesim, too,  because there are only a few players who use them.
The A340-300s came into my fleet, as i needed a great ammount of longhaul planes quickly (and no 330s where available) and they do a great job. The low leasing rates compare the high fuel burn and the higher maintenance costs more as 100 %.  But they are very old planes (in relation to my whole fleet) and i can´t order new planes.  Furthermore, i don´t really need the high range of the A340. Almost all of awaya´s longhaul destinations are within the range of my A330-200. The 350 have a high range, too, but here´s the low fuel burn thats convinces me and i will buy some of the 350 instead of leasing*.
So i´ve decided to change all 340 to 350.  However,  there´s another reason, that makes it a little bit easier for me (i hope so) : the possibility of changing cruise speed with the new AS-version. So i can compensate different cruising speed and TA-times to fit into the A340-slots.
* But all is a litte bit unsteady, because there still no information by AS about the A350 ingame perfomance. ;)
So you do it the right way: testing with one plane first as soon as available. :)
One year later, awaya is now serving more than 50 Routes across the atlantic with the new A359. Discover our newest routes ;)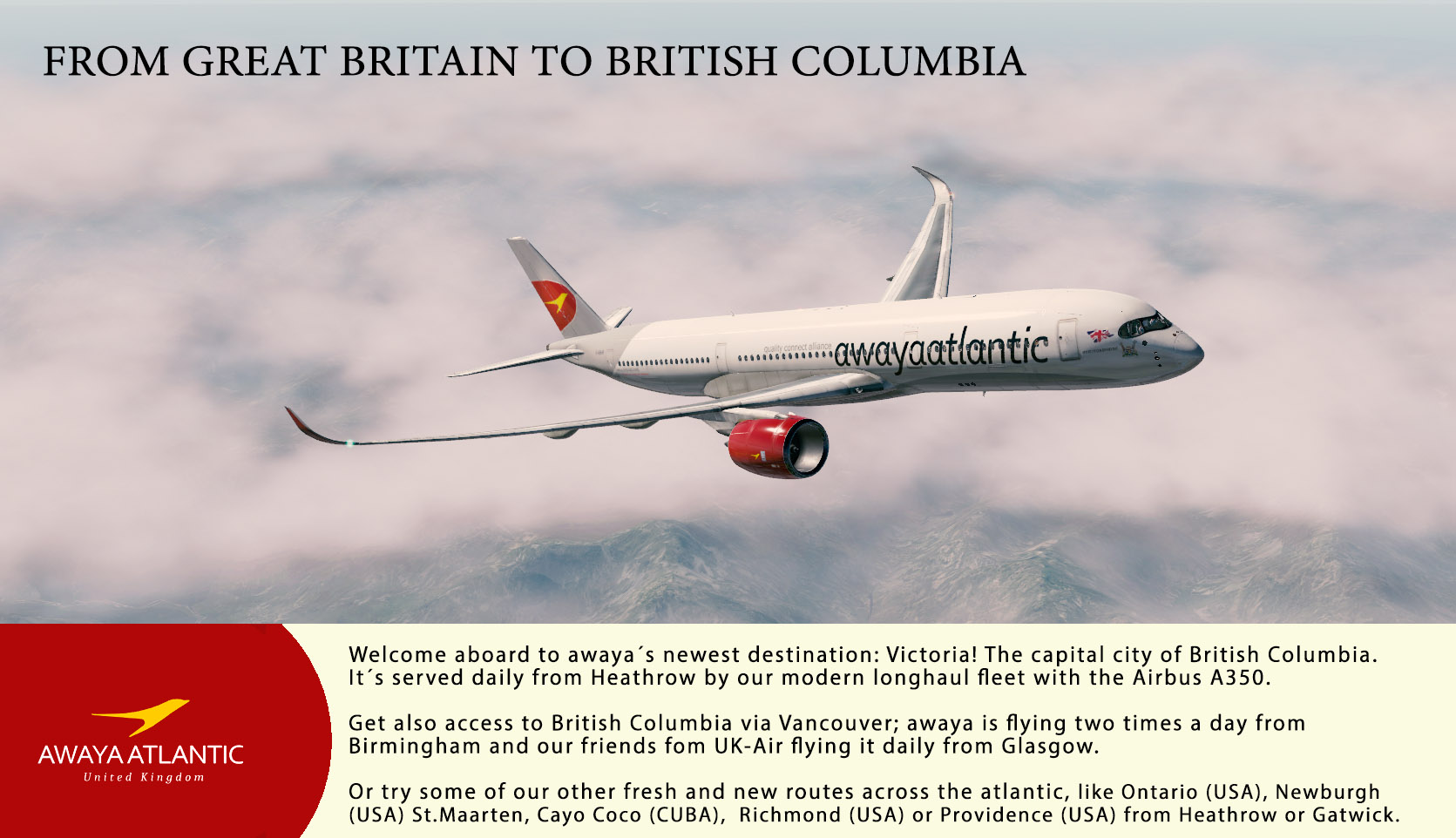 awayatlantic is celebrating its five-year membership of Quality Connect Alliance at the Pearls gameworld!
To honor this, awaya painted an A350 in a special "QC" livery and named the plane "Quebec Charly" ;)