Good evening everybody,
As some of you may or may not remember, I used to run an airline on Croydon called Desert Airways which stopped operating a year and a half ago. Having taken a long break from AS, I am finally back with Desert Airways… again but this time on Tempelhof in South Africa. This will be the first of hopefully many press releases covering the development of Desert Airways.
Background
With the folding of the previous national carrier, South Africa was suddenly left without an airline. Desert Airways quickly pounced upon the opportunity to fill this gap.
The Hub - Johannesburg International
Being the capital and largest city in South Africa, Johannesburg was the perfect place to set up base for the new airline. The city is the economic centre of the country, being located in the mineral-rich Witwatesrand hill range. Johannesburg is also a rapidly growing city with almost 5 million people living within its boundaries.
Desert Airways - Goals
Link every airport to our hubs.

Open a second hub in Durban

Expand our fleet to over 100 planes.

Become one of the largest airlines in Africa

Begin flights to Europe and the Middle East
Desert Airways - Fleet
After long consideration over what type of plane should be used, the executive board decided upon the Embraer E-Jet Series as the backbone of the fleet. The company originally settled on 2 Embraer 190's, 3 Embraer 175's and 6 Embraer 170's. However, demand was so great that the company had to expand its fleet to accommodate this: 5 Embraer 170's (one LR variant used to expand into Central Africa and the Indian Ocean), 2 Embraer 190's and a 737-700.
Destinations
Currently, Desert Airways serves 24 destinations from its hub in Johannesburg, the majority of these being domestic services. However, several international services are in operation:
JNB-HRE
JNB-LVI
JNB-TNR
JNB-FIH
JNB-MPM
JNB-GBE
JNB-WDH
JNB-MUB
JNB-BEW
JNB-MRU
JNB-UEL
Here is a route map of our services (EDIT: Just realised I missed out Livingstone from the route map

):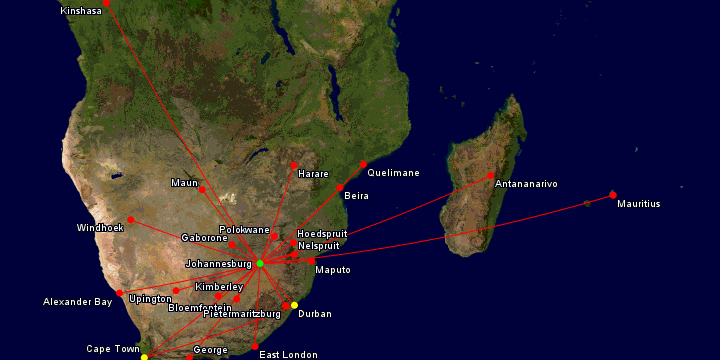 Desert Airways - Logo
Previously, I had an incredible logo created by DanielL, which you can find on my previous press conferences on the Croydon forums. However, this time around I wanted to attempt to create a logo for myself, which would be more suited to the South African setting (featuring a Springbok (kind of)):

Thank you for attending the first Desert Airways news conference! Leave any questions below and I will answer them promptly! An update should follow in 2 weeks to one months time.
Billy, CEO of Desert Airways