[EN]
In late February we will hold our annual internal team meeting where we will discuss the development roadmap for the coming year and pick the next big feature we will be working on. At the same time, a part of the team is busy working on data optimizations for the new seating editor in cooperation with several very helpful and active community members. So I've taken upon myself some maintenance and improvement work, mainly adding things that have been suggested on the forums. The latest two additions are an improved route-based scheduling and an extended flight costing for single flights.
1178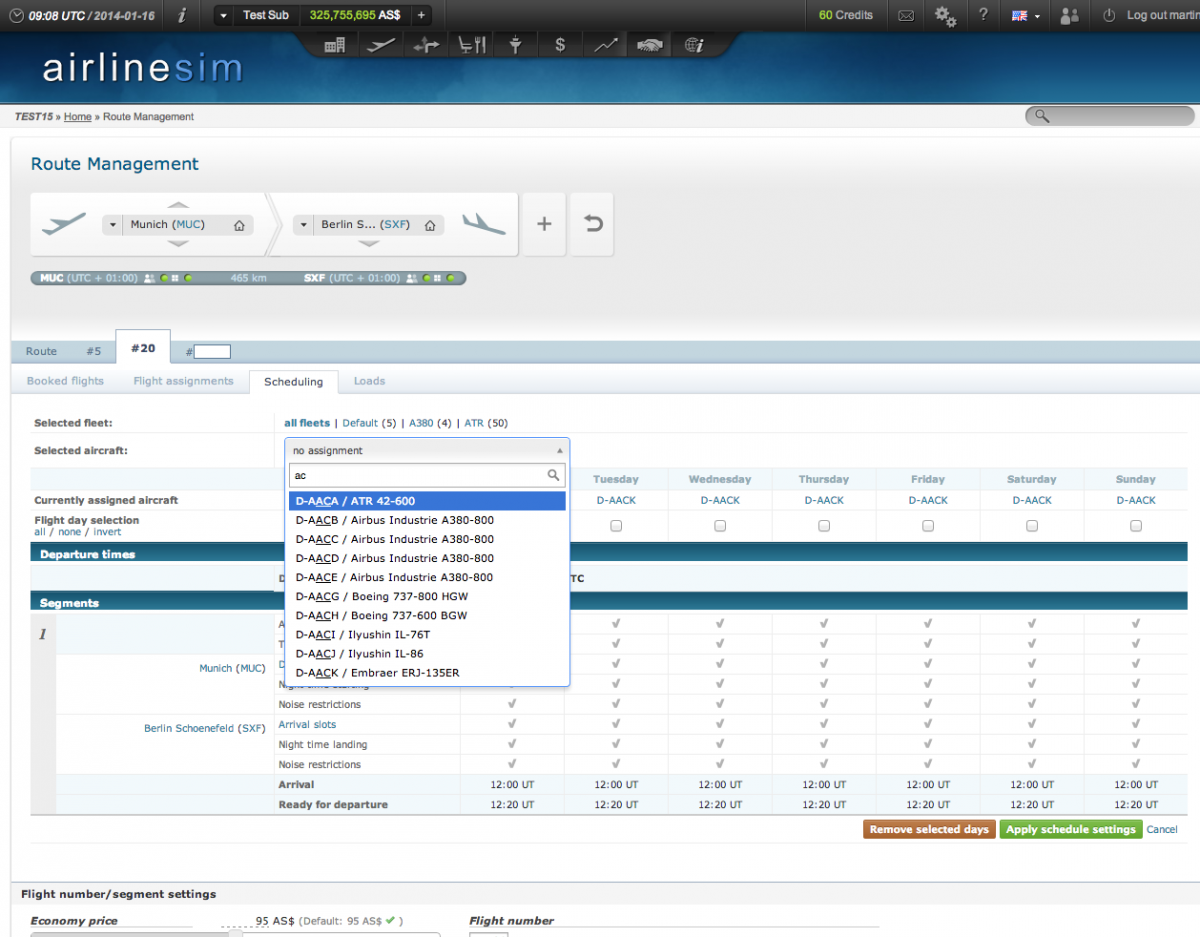 Direct link to big version: http://community.airlinesim.aero/uploads/monthly_01_2014/post-8-0-65007300-1389866797.png
The scheduling improvements consist of two new helpers added in the route-based scheduling:
Using a single click, you can narrow down the available aircraft choices to a single fleet. I decided against a drop-down menu and in favor of links to save one click.
The aircraft choice has been replaced by a fancy component that allows you to narrow down and select choices based on keyboard input. Contrary to the usual default implementation of browsers, this works at any position within the label, not just the beginning. So you can search for parts/ends of registration codes and aircraft types.
1177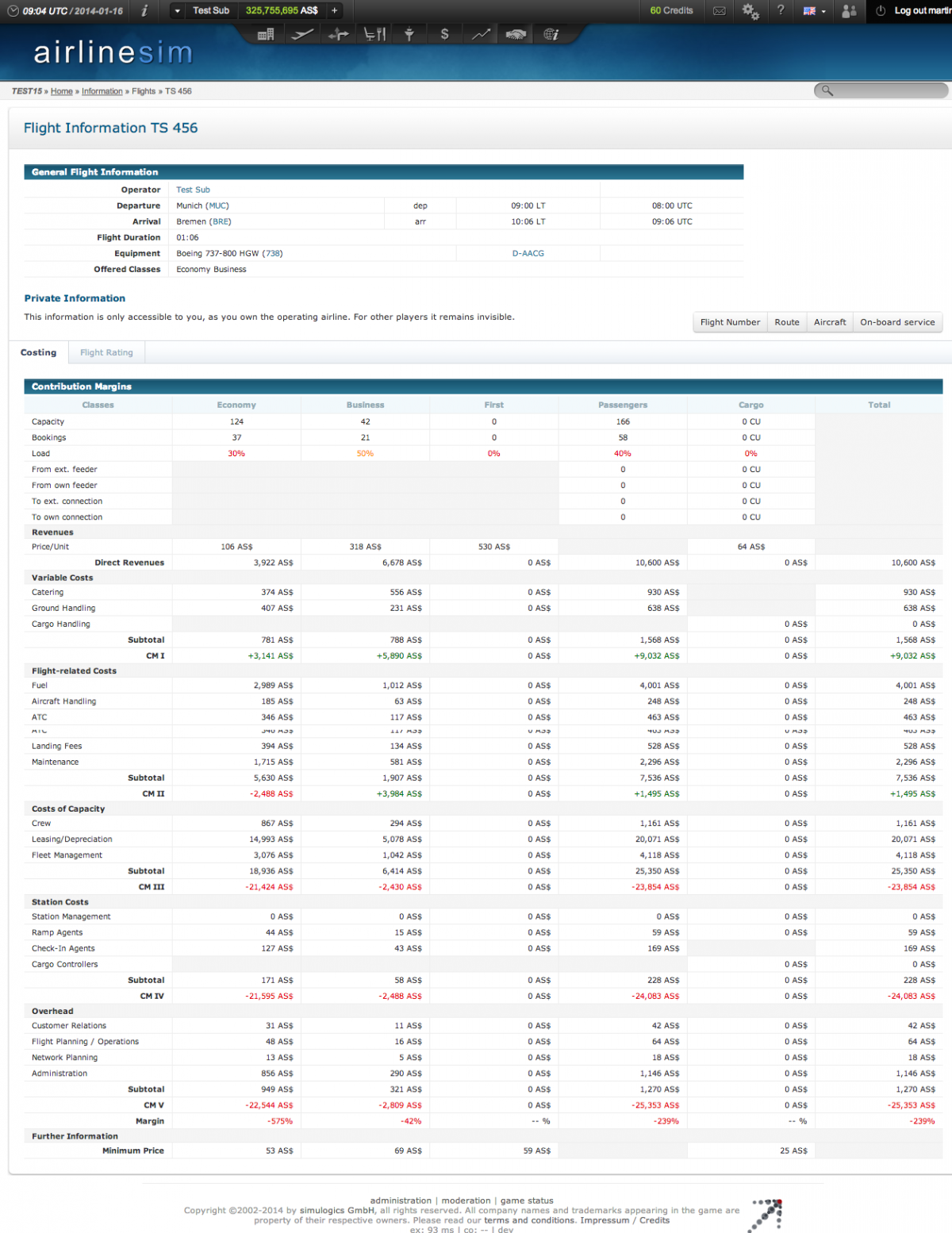 Direct link to big version: http://community.airlinesim.aero/uploads/monthly_01_2014/post-8-0-35551500-1389866793.png
The extended flight costing now offers a lot more details and information:
Most importantly, there are several "contribution margins" now. This allows you to see up to which point your flight "contributes" to your fixed costs. This is mostly addressed at advanced players...if you don't care about the CMs, the most important information are still the first and last lines in the table :)
Fixed-cost positions are now allocated among the different classes and cargo based on the same weighting used for minimal prices. This is just one way of doing it and you can of course use your own method to break down costs, but it gives a hint as to how well single classes are doing, taking into account all costs, without having to delve into complex Excel spreadsheets.
Some positions are more detailed now. For example admin costs are now split up into their actual components.
Especially the latter feature still has to undergo final QA and translation. But I expect both features (and a few bugfixes) to go live today or tomorrow.
[DE]
Ende Februar werden wir unser jährliches Teammeeting abhalten, wo über den Entwicklungs-Fahrplan für das kommende Jahr und die Wahl des nächsten Großen Features entschieden wird. Gleichzeitig arbeitet ein Teil des Team zusammen mit einigen hilfsbereiten und aktiven Community-Mitgliedern an Daten-Optimierungen für den neuen Bestuhlungseditor. Folglich habe ich mir selbst vorgenommen, etwas Wartungs- und Verbesserungsarbeit erledigt zu bekommen, vor allem was die Umsetzung von Vorschlägen aus dem Forum betrifft. Die neuesten beiden Ergänzungen sind eine verbesserte routenbasierte Flugplanung und eine erweiterte Flugkostenrechnung.
1178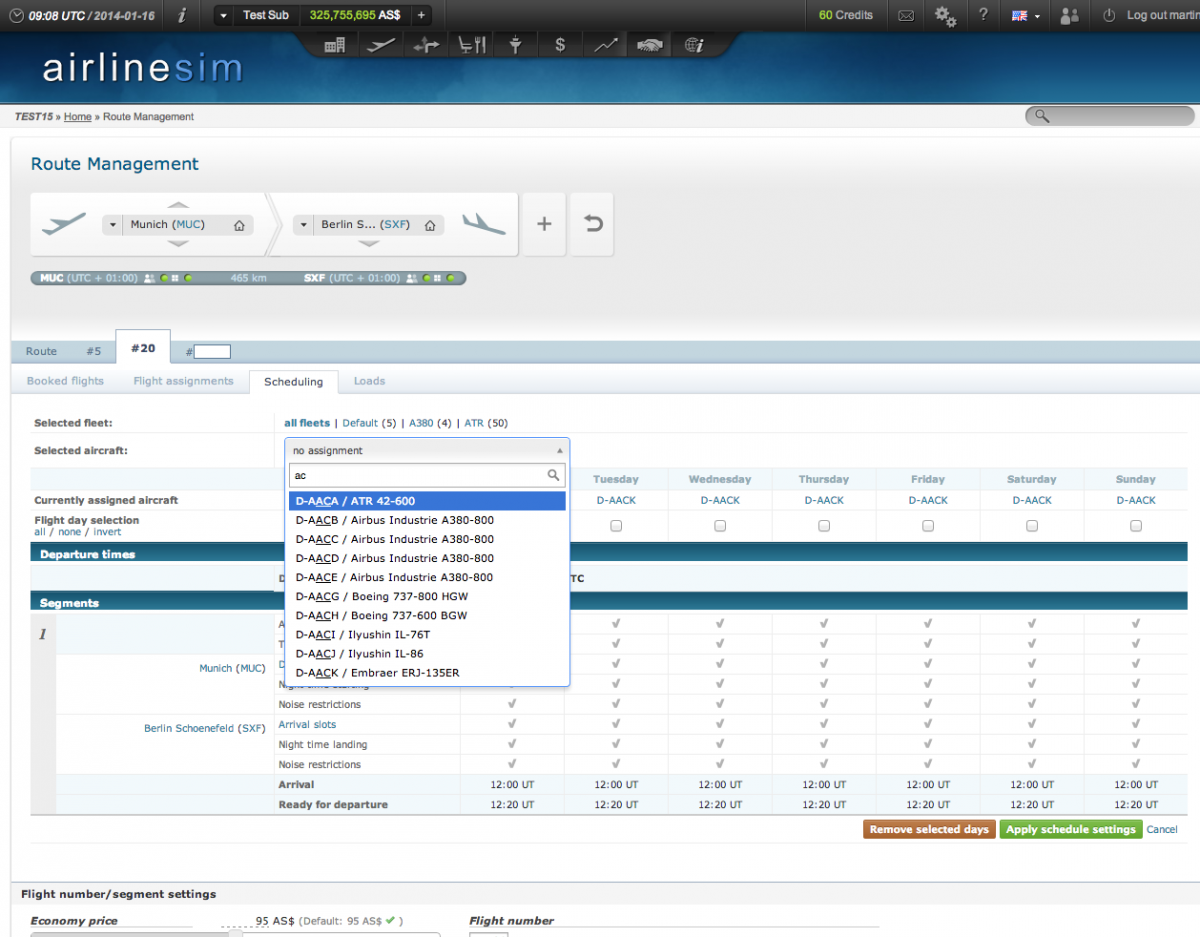 Direkter Link zur großen Version: http://community.airlinesim.aero/uploads/monthly_01_2014/post-8-0-65007300-1389866797.png
Die Verbesserungen in der Flugplanung bestehen aus zwei Helferlein in der routenbasierten Flugzuweisung:
Mit einem einzelnen Klick kann die Auswahl an verfügbaren Maschinen auf alle Maschinen einer Flotte begrenzt werde. Ich habe mich gegen ein Dropdown-Feld und für Links entschieden, um einen Klick zu sparen.
The Flugzeugauswahl selbst wurde durch eine mächtige Komponente ersetzt welche es erlaubt, die Auswahl per Texteingabe zu beschränken. Im Gegensatz zu den üblichen Standardimplementierungen der Browser funktioniert dies an jeder Stelle im Text, man kann also nach Teilen (vor allem dem Ende) von Registrierungen oder Flugzeugtypen auswählen.
1177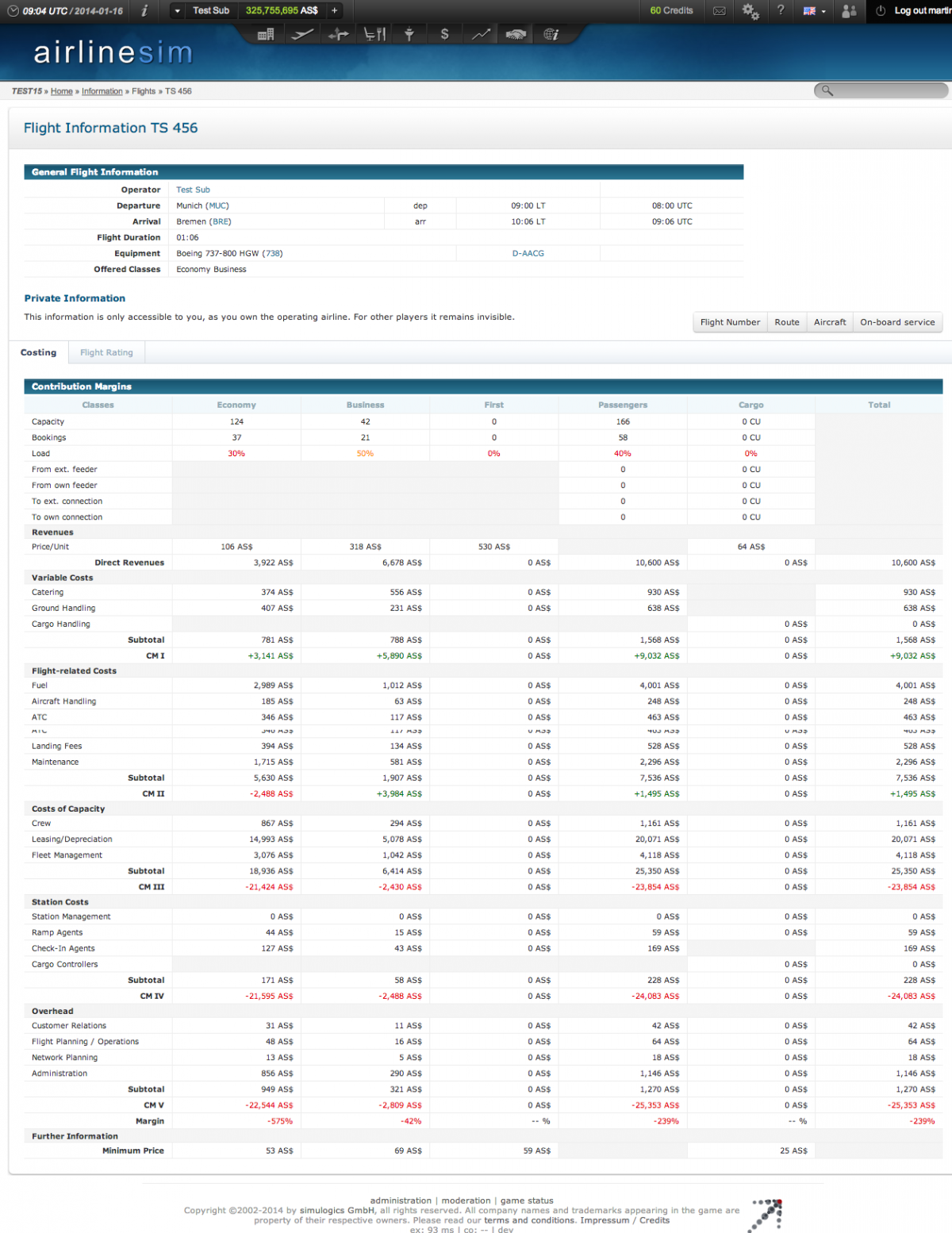 Direkter Link zur großen Version: http://community.airlinesim.aero/uploads/monthly_01_2014/post-8-0-35551500-1389866793.png
Die erweiterte Flugkostenrechnung bietet nun deutlich mehr Details und Informationen:
Am auffälligsten: Es gibt nun mehrere Deckungsbeiträge. Dies erlaubt eine bessere Abschätzung darüber, bis zu welchem Punkt der Flug etwas zu den fixen Kosten "beiträgt". Das Feature richtet sich vor allem an fortgeschrittene Spieler...wenn Euch die Deckungsbeiträge nicht interessieren, dann findet Ihr die wichtigsten Informationen weiterhin in den ersten und letzten Zeilen der Tabelle :)
Fixkostenpositionen werden nun den unterschiedlichen Klassen bzw. Fracht zugeschlagen. Zur Anwendung kommt die selbe Gewichtung die wir auch für die Berechnung der Mindestpreise verwenden. Dies ist natürlich nur eine von vielen Möglichkeiten, wie man die Kosten zuschlagen kann. Ihr könnt selbstverständlich eure eigene Methode verwenden, aber sie gibt einen guten Eindruck davon, wie gut einzelne Klassen unter Berücksichtigung aller Kosten laufen, ohne erst umfangreiche Excel-Analysen durchführen zu müssen.
Einige Positionen sind nun detaillierter als zuvor. So werden z.B. die Verwaltungskosten nun in ihre Einzelkomponenten aufgeteilt dargestellt.
Insbesondere letzteres Feature muss noch durch eine abschließende QA und die Übersetzung, aber ich erwarte das beide Neuerungen (und ein paar Bugfixes) noch heute oder morgen ausgerollt werden.