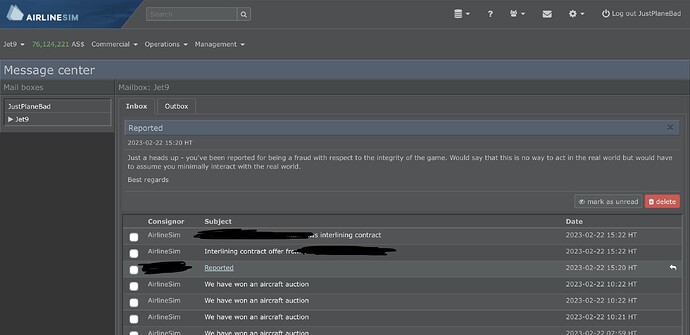 Hello everyone, I hope you all are well.
I recently expanded one of my US-based airlines into a major Northeastern US airport; this is on a temporary server. Before doing this, I did not have an East Coast hub. I operate A330 and 767 aircraft, and my choice of hub allows for these aircraft (which don't have the long range of 787 or A350 aircraft, which I do not operate) to fly short regional flights between longer transatlantic flights, maximizing aircraft utilization.
A existing user who already had a hub at this airport took serious exception to my expansion. I received threatening messages and DM spam. The user let me know that they had reported me. I compete with lots of airlines across lots of servers. On Limatambo, me and other airlines have been fiercely competing for traffic and slots at DFW, IAD, LAX, ORD and more. On Bleriot, I compete with one other major airline at my main hub.
Is it unfair or damaging to the game if I use my airline's superior resources (in a temporary server) to develop a hub at an airport in which a smaller airline already operates out of?