So on Yeager I had an IL agreement with someone as I was running an international route to a hub. I next get an IL agreement from someone else in the hub. Seemed like a good idea so I agreed. I'm running what I consider an airline to be proud of. Nice seats, good service, not raking anyone over the coals with pricing. Full flights. A split between domestic and international. I'm running a 747 on this international route.
Next thing I know my load factors drop to almost nothing and I'm barely able to clear the week. Not sure what happened. I go to look and the second airline that added me is running 3xMD11 on the route now. I'm charging $630/seat and he's running $480. I don't understand how he's making money but basically it's wrecking me so I cancel the IL.
Within minutes of cancelling the IL I get an email in-game telling me if I don't reinstate the IL that he will have my other IL in the hub dropped. That his friend is the largest carrier and they will run me out. I refuse and frankly started to ignore him. He keeps emailing me stating how him and his friend preplanned everything and started to go through their past tactics stating how they've had to resort to this because in the past they got in trouble for using economy seats with business class pricing. So to me I already know the kind of person I'm dealing with here.
I then start getting other IL agreements dropped by a couple others. All with the same sort of build to their airlines. Then They seem to all join in the same alliance. I considered it BS to leverage other people against me and basically was told there was nothing I could do so I wrote other players in game expressing my concerns about them gaming the system. What these particular players apparently are doing is signing an IL with every single player they can in every single city they undercutting them all in pricing to drive them underwater.
Now there is a second airline with the same name so XXXXX vs XXXXX II in my hub now. This airline is from a new account that was created two days ago. This airline now has accumulated over 40 aircraft and is doing the same exact thing. They've picked every single route I'm running, some pretty obscure, and are running them at cutthroat pricing. Both airlines appear to have already been reported, I never did. But I did email customer service over it. This magical second airline that popped up now has almost 700flights and given the cost to staff the aircraft I see no way for them to be profitable to make all their payments in a week.
I message the guy about it and start getting messages in Chinese.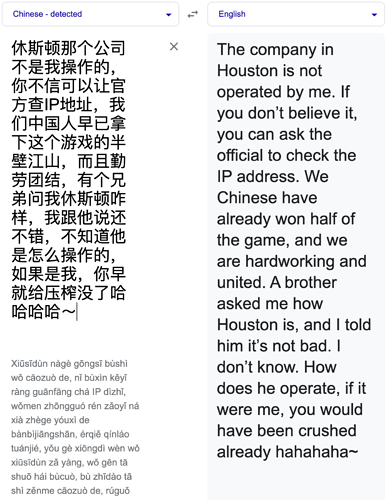 Before this there were several other messages. Apparently an entire group of Chinese players decided to join the server and ruin it for everyone else. He's stated that they had preagreed conditions and a plan. They decided to operate multiple airlines in each hub in coordination with each other and that was vital to their success. They would effectively start with double the manpower, double the funding, and as such have double the fleet size capability. When I cancelled the IL with one he wrote me stating if I didn't put it back he'd have the other airline cancel me as well and did instantly. I don't consider it fairplay and within the spirit of the game to operate this way.

So how is this NOT considered cheating and abusing the system? There's several bad actors as part of this. What can be done? He already mentioned in the past cheating by using economy seats in business class. His words were they were "persuaded" to not do that anymore in the future. So sounds to me like AirlineSim has already had confrontations with them once, allowed them to continue, and here they are finding other means to ruin a new server.
What is the policy of AirlineSim in regards to dealing with people? There's a certain integrity that should be maintained here. The same people that have been bad actors in the past are here being bad actors again, just in a new way. It's not hard to know the intentions of the game. You don't need lawyers here. You know what they are doing is morally wrong, they've been involved in shady practices in the past, what's it going to take to start banning people? I can give you a list, it's not hard to see who it is. I can show you 5 people right here and now that are part of this and acting in this way (that's just who i've had direct dealings with). How much is their $$$ worth to you vs the integrity and longevity of the game? Another player in my hub already quit and if this is allowed to continue I suspect myself and many more will also. There's no point in putting in the $$$ and effort when these types of bad actors are allowed to continually ruin it for everyone else.