[EN]
As you might know - especially those who were present in Frankfurt last year - we've been working on a total overhaul of "everything aircraft" for quite some time now. At the core of this endeavor stands a revised performance system that's supposed to fix a lot of the issues we are having in the area of aircraft performance right now. Unfortunately, this affects so many parts of the game that we somewhat underestimated the effort it would take to complete everything for a single release. Besides we are still far from happy with our formulas and before we got them ready we cannot start researching new data for our aircraft.
Because this situation became more and more frustrating for us as well as the community we decided to split everything up in smaller parts and implement as many things as possible on the 1.5 branch, always keeping in mind the adjustments required for the future aircraft and performance system. This way, the wait won't feel that long and we can release new stuff more often while the core mechanisms are in the works.
The first part to see the light of the day is a long overdue update of the fleet management pages in preparation for a (completely) revised aircraft market. A picture says more than a thousand words:
383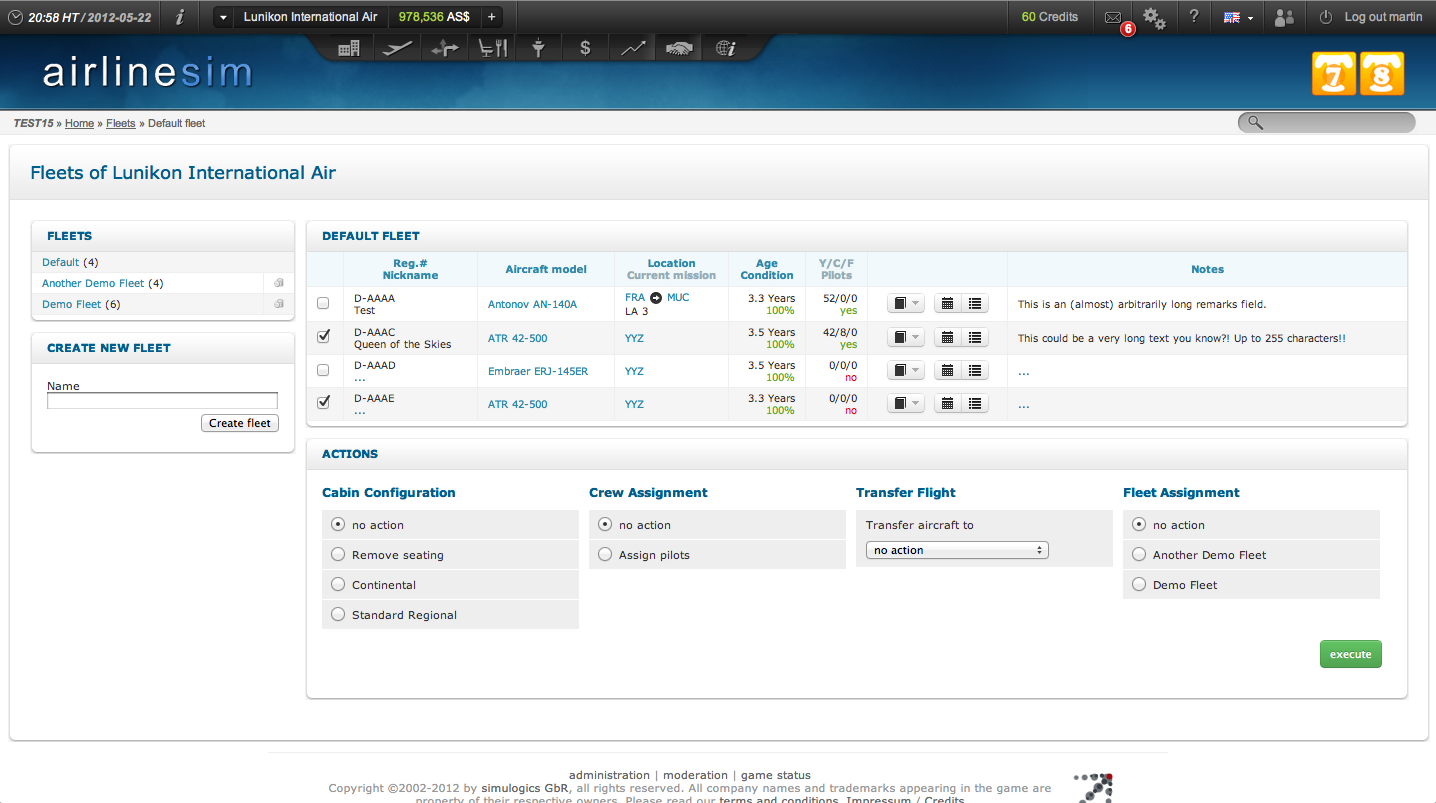 The main changes in brief:
All parts of fleet management (listing of fleets, creating new fleets, viewing a fleet) are now on a single page: Less clicks!

The fleet table is sortable without page reloads: Shorter load time!

The Actions panel is context-sensitive. The options update live depending on the aircraft you select. Example: Only the seating configs relevant for the selected aircraft types are displayed.

Nickname and remarks are editable inline, you do not have to go to the config tab on the aircraft page to change them anymore: Far less clicks!

The "book icon" will hold contract functions in the final version. You will be able to manage all contract matters (selling, offering for lease, cancelling a lease etc.) from this screen.
[DE]
Wie ihr wahrscheinlich wisst - vor allem diejenigen die letztes Jahr in Frankfurt dabei waren - arbeiten wir schon recht lange an einer Generalüberholung von "allem was mit Flugzeugen zu tun hat". Im Kern geht es um ein überarbeitetes Performancesystem welches diverse Probleme beheben soll, die wir momentan im Bereich der Flugzeugperformance haben. Leider betreffen diese Änderungen so viele Teile des Spiels, dass wir den Aufwand etwas unterschätzt haben, den eine Fertigstellung aller erforderlichen Arbeiten für ein Gesamtrelease darstellt. Abgesehen davon sind wir immernoch nicht zufrieden mit den neuen Formeln und solange diese nicht stimmen können wir auch nicht mit der Recherche der neuen Flugzeugdaten beginnen.
Weil diese Situation für uns wie für die Spieler zunehmend frustrierend wurde haben wir uns entschieden, die Änderungen in mehrere kleine Teile aufzuteilen und soviele wie möglich davon noch in 1.5 auszurollen. Dabei behalten wir stets die Anpassungen im Hinterkopf, die später für das neue Flugzeug- und Performancesystem vorgenommen werden müssen. Auf diese Weise fühlt sich die Wartezeit nicht so lang and und wir können öfter neue Features veröffentlichen, während wir parallel an den neuen Kernmechanismen arbeiten.
Der erste Teil der das Licht der Welt erblicken wird ist ein längst überfälliges Update des Flottenmanagements in Vorbereitung für einen (komplett) überarbeiteten Flugzeugmarkt. Aber ein Bild sagt mehr als 1000 Worte:
383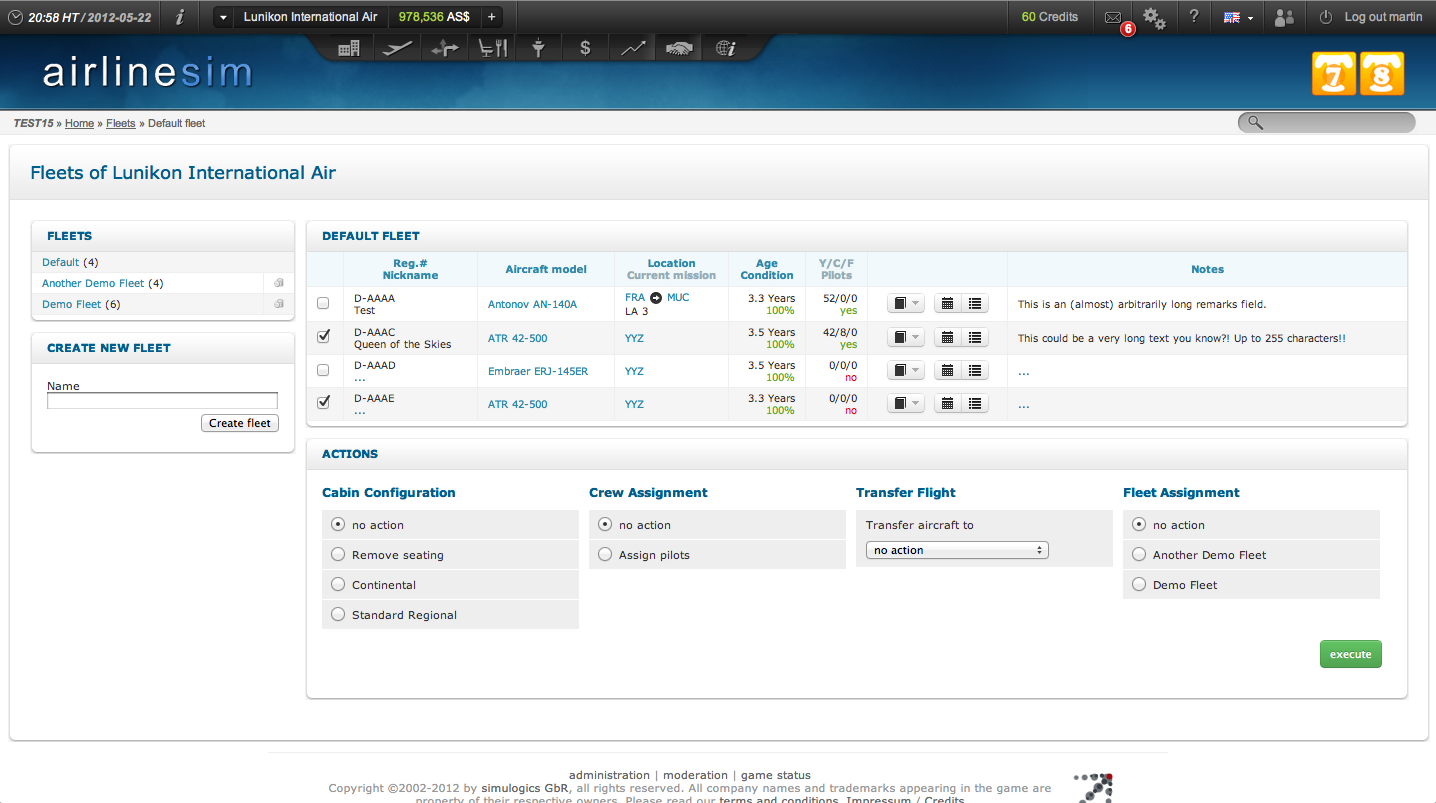 Die wichtigste Änderungen im Überblick:
Alle Teile des Flottenmanagements (Anzeige der Flotten, neue Flotte anlegen, Flottenanzeige) befinden sich nun auf einer Seite: Weniger Klicks!

Die Flottentabelle kann ohne Neuladen der Seite sortiert werden: Kürzere Ladezeiten!

Der "Actions"-Bereich ist Kontext-abhängig, dass heißt die angezigten Optionen ändern sich je nach ausgewählten Maschinen. Beispiel: Es werden nur die für die aktuell ausgewählten Flugeugtypen relevanten Sitzkonfigurationen angezeigt.

Maschinenname und Anmerkungen können nun direkt in der Tabelle bearbeitet werden. Man muss hierzu nicht mehr auf den Einstellungs-Tab auf der Flugzeugseite wechseln: Deutchlich weniger Klicks!

Hinter dem "Buch-Icon" verbirgt sich in der finalen Version eine Dropdown mit Vertragsfunktionen für die entsprechende Maschine. Man wird alle Vertragsangelegenheiten (wie Verkauf, Leasingangebot, Leasing kündigen u.ä.) auf dieser Seite erledigen können.